In the March 1995 Geology, Breyer, Busbey, Hanson and Roy published an article about mesoproterozoic (ca. 1.25 GA) trace fossils from the Van Horn region of Texas. On this page are color and grayscale images of the fossils.

In the article we made a case for these being trace fossils. Others have suggested Vendian-type body fossils or some bizzare and unique cyanobacteria. Everyone who has had a chance to see the actual specimens agrees they are biogenic - not ripples or subtle structural features.

We invite your opinions - read our Geology article and look at the pictures in that article and below. What do you think these might be?

---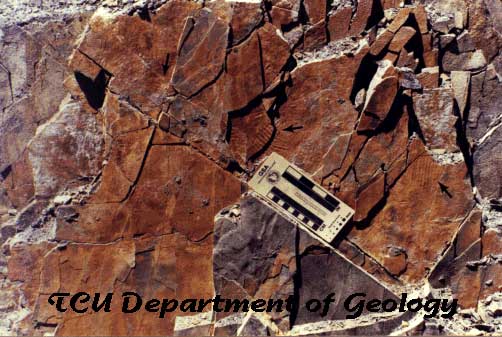 This is the slab in the field before it was removed.
---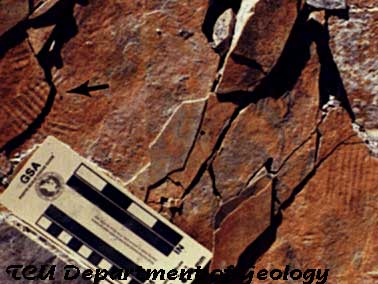 This is a closeup of the image in figure 1. You can see several of the fossils spread out across the surface, some overstepping older ones. The arrow points to intersecting tubes.
---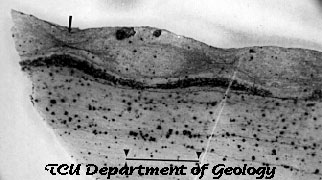 This is a cross section through some of these sediment filled tubes.
---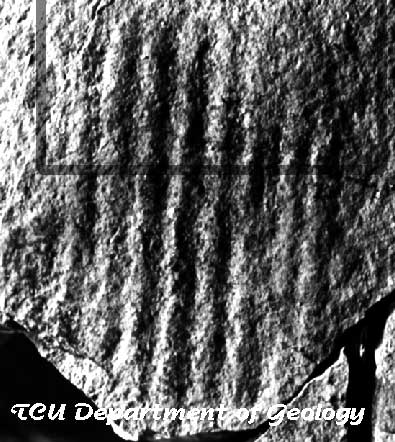 This is a closeup of one set. They grey box outlines one edge where there appear to be turnaround loops on the ends of the tubes.
---

[Geology Home Page]

---
For questions about this page email Art Busbey
Last updated 8/24/98
Copyright © 1995-1998 Art Busbey
---